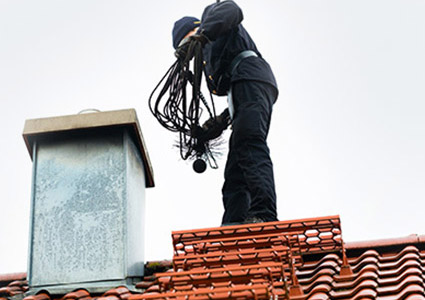 How often do you think about your chimney? When it comes to your home maintenance we often focus more on the foundation, landscaping, and other tasks that might require more immediate attention or frequent upkeep. However, your chimney's upkeep is just as vital to the overall appearance and maintenance of your home. Especially if you enjoy using your fireplace when it's winter then you should be having someone come and make sure that your chimney is operating correctly or it could lead to some issues down the road. When you own a property it is important that all parts of it are upkeep so when you find that you are in need of chimney repair services in Westchester, NY then you can depend on American Star Contractor Group to handle your chimney needs.
If your chimney isn't safe or properly maintained then your family won't be safe. If you notice any damage to your chimneys like deterioration or general wear and tear then it could be time for you to get a repair or renovation done to your chimney. Whether you're in Mamaroneck, East Chester, Harrison, Port Chester, Yonkers, White Plains, Dobbs Ferry, or Hartsdale, NY American Star Contractor Group has you covered. Our experts can handle a wide variety of chimney issues and can perform any service you believe your chimney might need. From cleaning, installation, repairs, and maintenance we perform all these tasks efficiently and professionally. It is important that even if the damage is minor that you have someone come check it out and do the proper repairs to avoid more expensive repairs down the road.
At American Star Contractor Corp we strive to provide high-quality service and 100% customer satisfaction. Whether we are performing chimney repairs, renovations, cleaning, or replacements we want to make sure that your original design stays intact or that if you're looking for something brand new it looks exactly how you pictured it. We work to find any underlying problems with your chimneys and we make sure to communicate all of them with our customers. We also only use the highest quality materials and equipment when it comes to repairs and renovations so that your chimney will last a lifetime.
If you are in Westchester, NY, Yonkers, NY, White Plains, NY, Dobbs, NY, Hartsdale, NY and Mamaroneck, NY in need of roof repair and renovation services, American Star Contractor Corp wants to help you. Call us today at 862-294-9990 and we will give you a quote or set up a consultation for your chimney needs.